August was a very trying month. I'm sure you've all seen the news coverage. Between the horrible red tide and the fresh water releases from Lake–O (Lake Okeechobee)… It has been hard to stay positive.
As a full time guide, the amount of death floating around and washing up on our beaches has been hard to fathom. This is my office, my passion, my livelihood and my playground. Yet each sunrise brings new hope that Mother Nature will once again repair herself. Unfortunately, man hasn't even attempted to try and fix the problem we've created.
I haven't wanted to blog about this subject because I didn't want to be adding to all of the negativity. I just wanted to "address the elephant in the room".
Don't get me wrong; it's been difficult, but we've been catching fish and having fun on every charter I've had this month.  Most days took a whole lot more work and effort than usual, but that is fishing. Hopefully, the worst of it is now behind us.
Thankfully, everyday it is improving. Areas that, just a few weeks ago, were full of dead, decaying fish, are starting to come back to life. The beaches are clearing by the day. And in the last couple of weeks, I've seen huge schools of bait returning to the sound. Big schools of summertime Threadfin Herring, Shiners and even Pinfish. (Which is amazing, because during the height of the red tide, there were millions of them floating all over the sound.)
We're Catching Fish!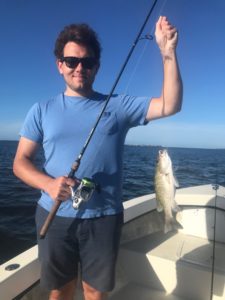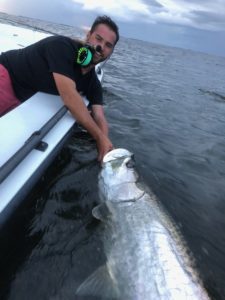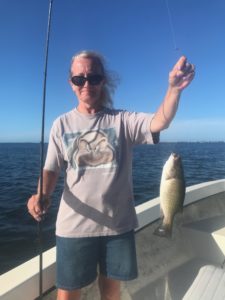 Dolphins are back chasing schools of Mullet and Mackerel. We've found and caught solid schools of Mangrove Snapper. We released some nice Redfish, Snook and even some solid Speckled Trout. Shark action has been hot, and we've even had a nice run of Tarpon despite the bad situation.
The red tide and the fresh water releases have definitely presented their challenges and killed many fish. But you can still get out there, have a great time and catch a bunch of fish! SWFL is one of the best fisheries in the world; you can knock us down but we're going to get back up again. I can promise, you'll be amazed at how much life is still in the waters.
More and more people are becoming aware of the water problems we are having in South Florida. You don't have to live here to voice your opinion or donate to the several organizations fighting the problem. The beautiful islands of Sanibel and Captiva are worth fighting for. Lets hope that this election cycle we are smart enough to put people in office who realize the residents and visitors of South Florida are sick of the blame game.
Man caused the problem. We can fix it. We need to start now.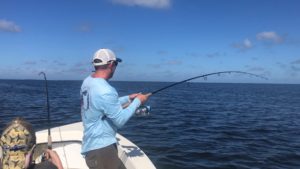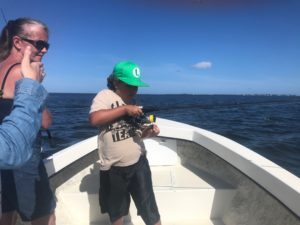 Keep an eye on my social media pages over the coming weeks. I'm going to make an effort to document the life coming back to the sound. But, most of all I'm going to do what I do best. I'm going fishing!
Please follow me on Instagram at @captshawnkelly and on Youtube at TarponSnookRedfish.  I hope to see you all again soon!