October Fishing Report: Hurricane Irma has come and gone! The cleanup on the Islands is pretty much complete and all businesses, hotels, restaurants and marinas on the islands are back up and running! With the waters clearing up and bait becoming more abundant, the fishing is getting back on track! I'm excited as the fall season in SWFL brings cooler temperatures, less humidity and a host of opportunities on the water.
October is historically one of our busiest months fishing here on the islands. This is the time of the year when many prime species return to pull on the other end of our lines. October typically marks the return of Tarpon on the beaches, Snook, Redfish and Speckled Sea Trout in the backwaters, Sheepshead on the pilings and Bonita and Amberjack in the gulf (In addition to many other species). The hardest decision you'll have is choosing what to fish for!
Tarpon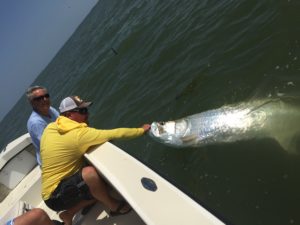 The great Megalops Atlanticus (Tarpon) are on their migration back down the coast and will present some of the best fishing of the year for the famous silver kings of Sanibel & Captiva Islands. As many are aware, there aren't many fish that fight like a Tarpon. They are truly acrobats, and have great stamina to inflict sometimes lengthy battles of strength and will with anglers. You'll never forget your first run in with the great Silver King, and you certainly won't forget your last! Book your Tarpon trips early as many visitors plan their vacations around these special fish and their annual migrations!
Triple Tail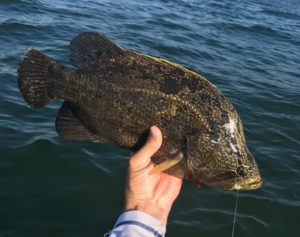 With the water temperatures coming off their summer time highs, Triple Tail also start showing up in numbers. Triple Tail are quite a unique species. These pelagic fish are voracious fighters, opportunistic feeders and quite delicious! They appear almost "prehistoric" with their heavy scales and large spikes adorning their fins. They have large mouths, small eyes and with their unique camouflaged coloring they can be a challenge to find. When you hook into one, they will definitely put a smile on your face when they go on a drag screaming run. A well presented bait is key to hooking up with Triple Tail, and we enjoy targeting them with light tackle or a well presented shrimp pattern fly. Some Triple Tail grow to be quite large with the state record over 40lbs!!!
Redfish
The Redfish bite has been a little more difficult then usual since Hurricane Irma passed through. However, they are starting to get back on their usual patterns and can be found cruising oyster bars & the mangroves lining Sanibel & Captiva Island. We recently observed large schools of bull reds cruising the beaches as they do every year, so I have every confidence that they will soon be back to their drag screaming, aggressive feeding patterns quite soon. Check out the "Captiva Fishing: Redfish" Video on our Gallery Page.
October also means the snook will be coming off the beaches and should remain plentiful in the sound and passes. Snook season runs through December 1st with a slot limit of 1 fish per angler of 28″ to 33 inches on the gulf coast. Sanibel and Captiva always host a plentiful Snook population, and so far this year has not been a disappointment.
Family Fishing Charters
October is also a great time to take kids out for their first family fishing trip. Trout are here cruising the flats and provide not only good eating, but a great fight for younger anglers. Snapper are still quite plentiful, and will soon be present with the feisty and aggressive Sheepshead. With the cooler, less humid weather, the family will be more comfortable and everyone has a great opportunity for a memorable trip on the Gulf of Mexico.  October, is a great month to come fish the beautiful waters Sanibel and Captiva. Come see us soon, and I look forward to seeing you while you're here!