January is the time of year when we transition into our winter fishing patterns.  Southwest Florida rarely dips down to the freezing temperatures that many of you experience up North But, we still get our share of "cold fronts" and temperature swings at this time of year. (even if it still sunny and in the 60's & 70's)
Inshore fishing Pine Island Sound in the winter months typically means fishing with shrimp on structure for Sheepshead, Snapper and the occasional juvenile Snook and Redfish. The grass flats hold trout but remember when I gets cold remember you'll need to keep your bait "low and slow" to keep it in the strike zone.
In the winter I venture offshore more often. Water temperatures in the deeper waters off the Sanibel and Captiva beaches stay more consistent than the shallow inshore waters. Therefore, I believe the fishing stays more consistent. Off the beaches you can catch many different species of fish. Snapper Grouper Sheepshead Triggerfish, Hogfish, Cobia and Goliath Grouper are the most prominent.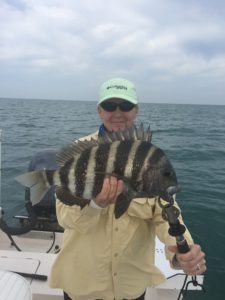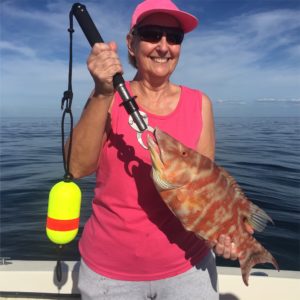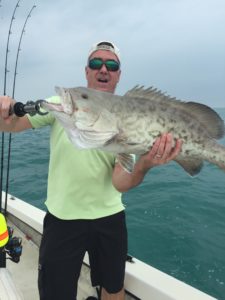 I use may different tactics to catch different species. Sometimes I bottom fish and sometimes troll. You can even drift live or artificial baits at this time of year.
The most important thing is that you go out and fish! I always say you can't catch fish unless you're fishing. Don't let the cooler temperatures or a little breeze stop you from getting on the water. Our version of "Winter" is generally a beautiful time of year!
Even if fishing isn't your thing, there are still plenty of things to do out on the water. The shelling and sightseeing in the winter time is an all-time high. "Winter" brings lower than normal tides which produce excellent shelling opportunities! Plus, the cooler temperatures it makes it much more comfortable to walk the beaches! If shelling is your thing the beaches of Sanibel and Captiva are a great place to be. Call me for a charter and we'll head out to the secluded beaches of North Captiva and Cayo Casta for a shelling excursion that will be second to none!
Sightseeing in the wintertime is awesome! There is plenty of wildlife to be seen. Dolphins are a regular sighting in the waters that surrounds Sanibel and Captiva. Migratory birds are in abundance in the wintertime here in SWFL.
If you're not joining us for a charter or don't have access to a boat, head over and see our friends at the Ding Darling Wildlife Refuge. It is an awesome place to enjoy some of the beautiful migratory birds that are visiting our islands at this time of year!
Most importantly get out of all that severe cold up North and come down to see us to enjoy what Mother Nature has offer!
Till next time keep your rods bent and the drags screaming!
,Capt. Shawn Kelly
PS.
For those of you who have fished with us, please take a moment to give us a review on our Trip Advisor page! I didn't even know this page existed until a few months ago, but I hope we can help build our exposure though it. Please visit the page here >Capt Shawn Kelly – TripAdvisor.com